Hands-on tutorial on PTPv2
By Andreja Jarc.
At this time I will grant you a short summer break from all the theory 🙂 and we will do some hands-on refreshment instead! Let's check if PTP messages between a GM (Grandmaster) and a slave clock both configured with the Default profile are transferred smoothly.
For this purpose attach a laptop with a Wireshark software in a test bed with a GM and a PTP slave as suggested in Figure 1. For those who are not yet familiar: Wireshark is a user-friendly network protocol analyzing tool and free downloadable.

Figure 1: Hands-on setup to prove compatibility of the IEEE 1588 Default Profile configuration of a master and a slave clock.
In Wireshark go to the "Capture menu -> Interfaces" and select the laptop network port attached to the test setup. The network interface listens to all network protocols coming in and out including PTP. In the filter area (see Figure 2) type "ptp" and the data packages displayed will be limited to PTP messages only.
Start a new live capture by clicking "Start" in the Capture menu. After a while stop the running session with a Stop button (the forth icon in the second row). Now you are able to visualize PTP timing packages in a closer detail (Figure 2).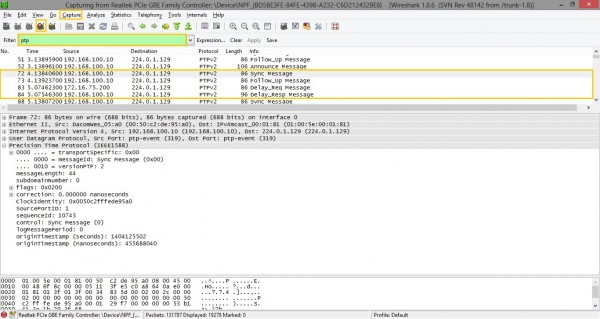 Figure 2: A print screen in Wireshark v1.8.6. showing a successful transfer of PTP messages between a Grandmaster and a slave in the multicast mode.
What we see in the main screen marked yellow is a two-step PTP message sequence between a master and a slave. The first message is called a Sync Message sent from a GM to a multicast IP address (check the Destination column). A Follow_Up Message which carries an accurate time stamp of the Sync Message departure time follows from the GM in a two-step operation. Next a Delay_Req Message is sent by a slave clock to the GM. The GM returns a Delay_Resp Message with an accurate time stamp of the Delay_Req Message arrival back to the slave.
The slave has now all significant t1-t4 time stamps to adjust its own time. One PTP package exchange between a master and slave is by this completed. If you acquired an appetite to learn more about the theory on PTP while trying out this hands-on then check our previous blog posts on IEEE 1588.
I hope you enjoyed today's session, I will be glad to hear your feedback and discuss questions/comments…
For more information visit our website at www.meinbergglobal.com.
I wish you a nice holiday and am eager to welcome you back to our next on-line tutorials. Cheers!
Incoming search terms:
https://blog meinbergglobal com/2014/08/15/hands-on-tutorial-ptpv2/
linux PTPv2 packets
ptp protocol tutorial
ptpv2
wireshark tutorial
Related Posts