HOW to setup an NTP Cluster
By Andreja Jarc.
If you're thinking of building your own NTP pool within your middle or large sized company, and if you are concerned about the safety and availability of time service in the network, you may consider a cluster setup with your NTP servers.
In one of our previous posts we discussed different approaches of redundancy in an NTP network and you are always welcome to have a glance at, yet this time our focus will be set particularly on how to build up and configure a cluster with Meinberg LANTIME servers for your LAN or WAN architecture.
Cluster mode is a specific way of operation which involves multiple NTP servers in a kind of a cloud. By means of a special algorithm they decide which of them has the best performance parameters and therefore starts to act as the current MASTER in the network.  All the others reconfigure into a "slave" mode and they keep exchanging parameters until one of them may become the next master if it outplays the current one. May the current master lose synchronization to a reference or its power fails for example, other servers rearrange immediately and choose the next master. Exactly by this self-healing mechanism, sync clients do not get affected by faults on the server side (Figure 1).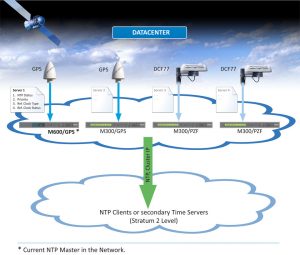 Figure 1: Four Meinberg LANTIME servers join in a cluster. All are assigned to a common IP address by which the current master supplies NTP clients in the same subnet.
The MASTER server is chosen according to parameters in the following order:
NTP status (sync, not sync);
Priority (user configurable, the lower value the higher priority, default value is 0. See cluster configuration in Figure 2);
Ref Clock Type (GNSS receiver has the highest rating, other (e.g. long wave DCF77 /PZF, MSF, WWVB or MRS- Multi Reference Source) receivers follow;
Ref Clock Status (sync, not sync).
All else equal, the lower serial number succeeds against its closest server opponent.
For a fully functional cluster operation two Meiberg LANTIME servers are sufficient. However, if there are at least three servers joint in a cluster, a falseticker detection and its handling is supported automatically.
The explanation is as follows. Let's assume we only have two, it is not possible to decide objectively which is better since a reference between them is missing. In case there are three, the two with closer quality parameters will vote over the third one. That said it is unfortunately unavoidable to detect a false negative if one server is obviously more accurate than the other two;  thus it may be improperly excluded from the further voting campaign. To be on the safe side it is recommended to use  in total 4 cluster servers;  to detect an outlier robustly and if one of servers is completely out of operation, time accuracy among the rest three can still be compared.
The main idea of the cluster mode is that servers are assigned to a common IP address by which the current master replies to time requests of sync clients. This mode is particularly favored by the SNTP/NTP clients who are not capable to choose between different time servers (e.g. Windows DC domains) since they can only be entered one server IP address at a time, yet they still demand redundancy in servers.
Referring to Meinberg LANTIME models, a cluster can be built with servers operating with V5 or more recent versions of firmware. In case you have time servers with older firmware versions, it is recommended to upgrade them all to the latest version.
Figure 2: LANTIME 1 (left) and LANTIME 2 (right), respectively. In this example, the Cluster port configuration is in both servers assigned to LAN 0. It can be observed that the current status of LANTIME 1 is in a listening mode, rearranging from SLAVE to MASTER and of LANTIME 2 is in SLAVE mode. LANTIME 2 shows information: IP and MAC address of the current master.
To set a cluster mode configuration in your LANTIME, first log in to a web interface and continue to the Network menu and select Network Interfaces. In our example we choose Interface 01 assigned to LAN 0 also as a cluster port, both in the same subnet. The Cluster Tag of this interface is selected and filled in with the cluster IP and netmask settings as shown in Figure 2. The same cluster IP configuration should be assigned to all NTP servers in the cluster. If one sets the priority of server n to become a master before others, then its priority value should be left 0 as per the default and the rest should be assigned manually to a higher priority value. Namely, the lower the priority value, the higher are the chances for a server to become the master.
Cluster members communicate by default via multicast status messages. In this case switches and routers must be configured to forward multicast messages.
With the firmware version V6.18 and higher the cluster operation is available in unicast mode as well. The configuration is as follows: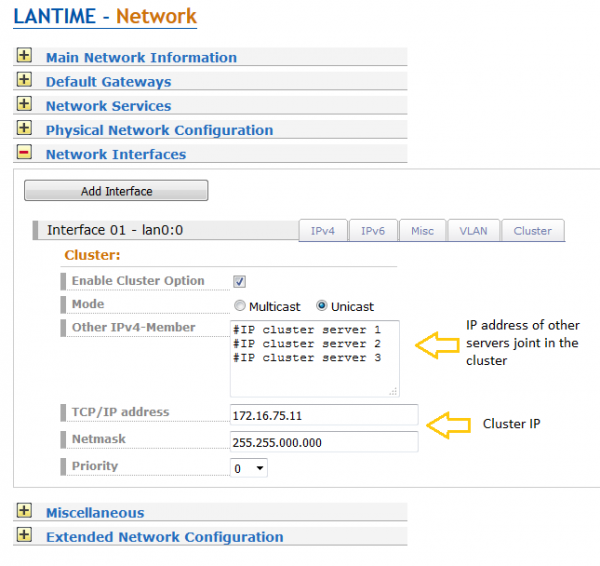 Other server interfaces for example LAN 1, LAN 2, etc. can be configured as usual so that they may supply sync clients in different subnets, for instance.
Figure 3: Meinberg LANTIME Cluster Configuration Example. The current MASTER-SLAVE situation with LANTIME 1 and LANTIME 2, respectively (left). If LANTIME 1 loses its synchronization with a reference signal, LANTIME 2 becomes the new MASTER (right). The active Cluster IP stays unaffected.
Incoming search terms:
ntp cluster
highly available local ntp
Related Posts