HOW to use redundancy for your NTP network
By Andreja Jarc.
There are a number of methods to assure highly available and reliable operation of time & frequency synchronization in your networks. One principle for example is to use well designed and robust equipment. However, even with quality equipment we recommend redundancy, which enables a synchronization system to continue to operate seamlessly although some of its components may have failed.  Redundancy in NTP networks can be established in several ways. We may distinguish between two major aspects in terms which subsystem takes responsibility to provide redundancy:  NTP servers or sync clients themselves.
Let me address in this article how redundancy for your NTP network can be sustained from the server perspective. Step by step we'll work out a few different scenarios what may go wrong in a NTP constellation that calls for a server redundancy configuration:
Power supply failure
Reference clock failure (signal loss or malicious disturbing)
Network unavailability
Inadequate server performance
Physical damage.
1.   Power supply redundancy. If a primary power supply unit of an NTP server breaks down then its power may be seamlessly taken over by the second inbuilt power module. It is also possible to combine AC and DC modules with different voltage range (100-240 V AC/DC or 20-72 V DC, respectively). In case of overvoltage in the primary electrical circuit, a DC module takes over the power supply with an external battery, for instance.
2.   Ref clock redundancy. An NTP server may have an option to be synchronized by different reference time sources in case if a primary reference source fails or if it is maliciously manipulated. The most common reference clocks in the market are equipped with GNSS receivers, but for reasons of redundancy one can select separate GPS and GLONASS clock modules to be source independent. Moreover, in central Europe it is possible to achieve redundancy with DCF77/PZF, in UK with MSF and USA with WWVB long wave radio signal respectively. Additionally Meinberg offers also a so-called MRS (Multi Reference Source) system, where apart of the receivers mentioned a reference clock can be additionally synchronized with IRIG Time Codes, PPS, 10 MHz, PTP and external NTP time signals in a configurable priority order. Figure 1 shows an example of a Meinberg LANTIME M900 with redundant power and reference clock modules.
Figure 1: Meinberg LANTIME M900 with a Redundant Power Supply configuration (yellow) and a redundant GPS reference clock module (green).
3.   High-availability network connection. This type of redundancy is about constant availability of a NTP server even if the LAN port responsible for NTP traffic fails or the network infrastructure this port is connected to fails. This is achieved with bonding of 2 LAN ports pairwise together (as suggested in Figure 2). In case that a particular network port for some reason falls out its bonded buddy takes over the NTP traffic and does the job seamlessly forward. For detailed information on Bonding configuration Guidelines a new post will be coming out soon.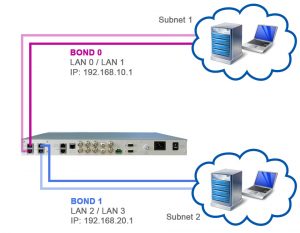 Figure 2: A possible bonding configuration in Meinberg LANTIME M600 for high-available LAN ports.
4.   Cluster mode. This Meinberg LANTIME specific mode of operation enables selection of the current MASTER among a few servers in a cluster according to the best performance parameters. Cluster servers are constantly exchanging information about their current state (e.g. priority, sync status, accuracy, availability, etc) and based on the quality of these features they vote which of them becomes the current master. All the others rearrange into a "slave" mode and they keep exchanging information until one of them may provide better parameters and thus become the next master.  Each of the NTP servers is assigned to a common cluster IP address, where the whole NTP traffic is eventually running to sync clients which query time from the cluster IP (see Figure 3).  Therefore sync clients may only know about this unified cluster IP, no matter how many servers are involved in the cluster.
Needless to say is that Cluster and Bonding features may be combined as well, but a detailed configuration setup will be addressed in a separate article.  Please don't hesitate to contact us if you would like help implementing this combination.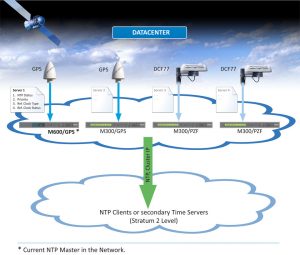 Figure 3: Several NTP servers involved in a cluster mode. Only one of them (the Cluster Master) is replying to NTP requests sent to the Cluster IP address.
5.   Fully redundant system. For the most reliable sync system (also to reduce significantly a potential risk of an unforeseen failure mechanism) one can consider a fully redundant double NTP server setup as mirrored configuration with redundancy in reference clocks, power supply units and LAN interfaces at preferably but not mandatory two physically detached locations.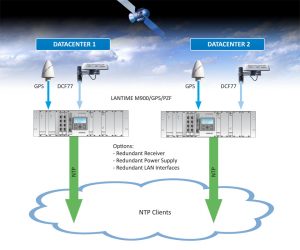 Figure 4: Fully redundant NTP server system setup.
This was about different variations of NTP server redundancy setups. Do not miss our next coming posts on NTP client redundancy, Bonding configuration settings and How to setup a Cluster mode.
For more information on NTP Time Servers visit our website at: www.meinbergglobal.com.
Incoming search terms:
meinberg time server redundancy
ntp redundancy
Related Posts