Let's configure the IEEE 1588 Default Profile
By Andreja Jarc.
The theory on IEEE 1588 PTP its functions and features have been extensively covered in our previous blog posts. To refresh your knowledge you can refer here.
As you may have noticed the PTP environment is exceptionally complex due to its flexible design to solve sync problems of many diverse applications in wide range of industries.
Therefore a justified question may arise,  how do we configure eventually a PTP master and slave clocks for our specific task? Or how do we modify the right set of features from a whole bunch of (e.g. delay mechanism, message intervals, network protocols, domain number, VLANs…) which should coincide with all nodes on the way in order to get both end clocks synchronized?
Sounds complicated or almost impossible? No, not if we start with a relative basic Default Profile configuration as defined in the IEEE 1588 v2 standard. When you have tried out and followed this example you may be able to configure customized settings required in your particular PTP deployment.
I will show you configuration steps with a Meinberg M600/GPS/PTP Grandmaster (GM) and SyncBox PTPv2 as a Slave clock over a front panel and next time we will work out the settings over a webinterface.
But before we even touch screens of the two devices, make sure that their LAN PTP interfaces are correctly connected via a LAN patch cable as shown in the Figure 1. Check if a link in both devices is up (a green port LED). The same goes for any switches or routers which may be attached in the cable link between a master and a slave clock.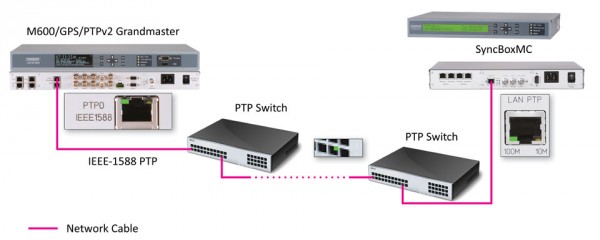 Figure 1: A PTP network setup including a GM, PTP aware switches and an ordinary PTP slave clock- a SyncBox.
Now we are ready to start with the configuration of the GM.
In M600 you reach these settings via a display following menus starting with a "↓" button from the main display:
Time Service-> PTP IEEE 1588 -> Select Index of PTP TSU #1 of 10 interf (Confirm with OK) -> PTP Presets -> E2E Dflt Profile (scroll "↓" until you land at the Default Profile, E2E stands for End-to-End delay mechanism and Layer 3 / UDP is a network protocol defined in IEEE 1588 standard in the Default Profile)-> confirm with OK and press F2 to activate the current settings.  Of course it is much more obvious how to do this on the web interface, but that isn't always conveniently available.
To keep our example simple, we will use a multicast message mode. Therefore let's go to PTP Settings menu->PTP Mode, set to "Multicast Master" and check the Network Protocol is UDP (you find this feature in PTP Parameters->Setup PTPv2 Press OK-> DlyMech & Protocol).
The final step in the GM is to configure network settings of the PTP interface. To do this, return two levels back with an ESC button to reach the menu Network Settings. Check if a valid IP Address and Netmask are correctly assigned or do it additionally.
We are done now with the GM and we will proceed with a configuration of the same set of features in the slave clock SyncBox/PTPv2.
From the main display use "⇅" buttons to reach the settings menu. Continue to PTP Setup / PTP Mode and scroll with "↓"until you reach "Multicast Slave" mode. Then select PTP Parameters menu / PTPv2 Parameter and make sure that "Delay Mechanism" is set to E2E and Netw.Protocol to UDP. If you need to change any of these values press a "→" button as many times as you need to reach the desired setting. You can modify each individual value with "⇅"buttons (Figure 2).

Figure 2: PTP configuration via a front panel.
Another important note: to be sure that a slave clock indeed receives multicast messages the whole network infrastructure (switches, routers) should also support the multicast mode messaging.
If you followed closely the configuration steps as suggested you are rewarded with all green status LED and the correct status MASTER / SLAVE on both end devices (Figure 3). Cheers!

 Figure 3: PTP status of both end devices MASTER/SLAVE respectively. SyncBox includes a MAC address of the GM.
Incoming search terms:
Related Posts